A month ago, I announced the release of the June VMware WSX Tech Preview. In it, I covered our awesome new Retina support for MacOS X and iPad, voice input, Windows support, and more. We had some great feedback and worked to address some of the key issues, while putting in a few new things.
Today I'd like to announce the WSX July Tech Preview, which is chock full of improvements. Let's go over them, shall we?
Improved Home Page
The Home page on WSX was a bit.. barren. Completely blank and useless, in fact, but no more. Now the Home page serves as a jumping point to get to your servers and to configure your server list. This replaces the Configuration page. In the future, I'd like to further improve this by giving quick access to your most recently used VMs.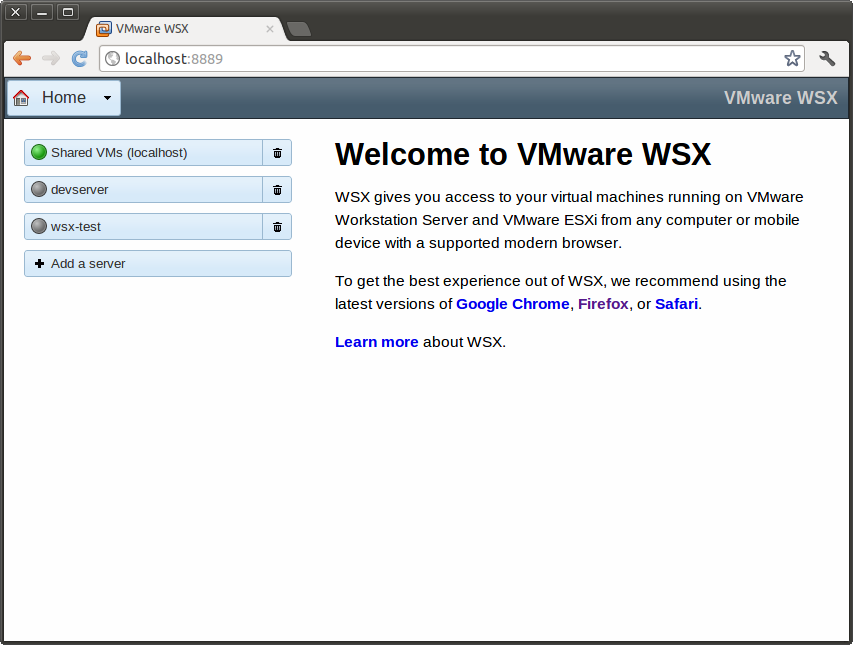 Improved Server Page
The Server Page was a jumbled mess of links to VMs. Now it's a nice, filterable, alphabetical list. Search for your VMs by typing part of their name, or filter them by power state. It's much easier now to find what you need. Oh, and the VM icons now show the power state as well!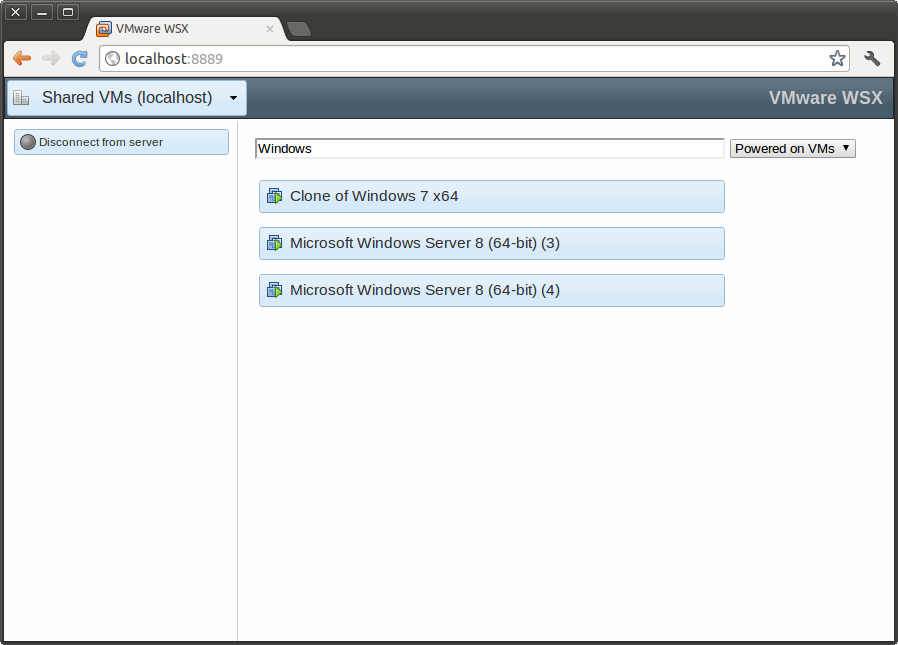 Big Honkin' Power Button
Much like VMware Player and Fusion, we now show a Power On button on top of the screen when the VM is powered off or suspended. This gives you both a nice visual showing what state your VM is in, and a big, easy to hit target for powering it on. Particularly great for touchscreens.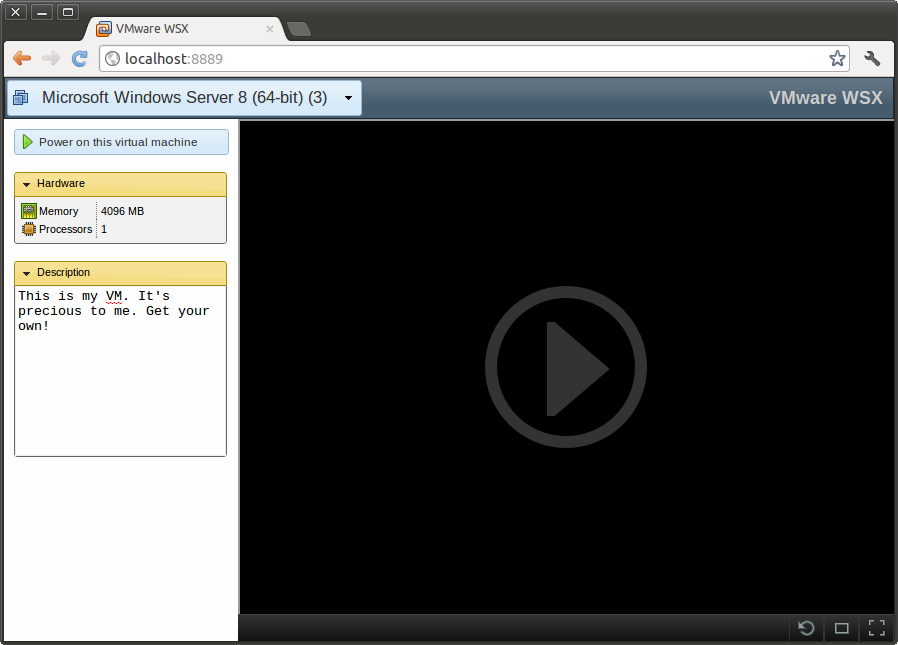 Better Touch Input
Working with your VMs on an iPad is now much, much nicer. We map a bunch of gestures to mouse events, giving you support for right-click, middle-click, and scrolling.
To right-click, just tap-and-hold part of the screen. Or you can press with one finger and tap with a second. Pressing instead of tapping with the second finger is equivalent to holding down the right mouse button, letting you drag around the screen. The actual click will take place where you pressed the first finger.
Just add a third finger to the mix to work with the middle button. That is, press with one finger and then tap (or press) with two more fingers.
Drag up or down with two fingers to scroll. This works just like the mouse wheel.
Mouse Wheels
If you're using WSX from a PC or Mac, your mouse wheel should now work! Scroll to your heart's content.
(Note: Mouse wheels events work a bit differently across different browsers, so depending on which browser you use, the sensitivity may be off. It works pretty well in Chrome and Firefox.)
Better Retina Support
Retina was cool and all, but reconnecting to a VM would put that VM back in non-Retina mode, moving all your windows and icons around. No more! Now if your VM was in Retina mode before, it should be in Retina mode when you connect next.
You can pretty easily live in Windows 7 with high-DPI set in Retina mode on an iPad 3 now.
There's also new Retina icons on the action bar below the screen.
SSL
WSX can now (optionally) encrypt all the traffic between the WSX server and your computer or mobile device. You only need to generate or purchase an SSL certificate, name the files wsx.crt and wsx.key and place them in your /etc/vmware/wsx/ssl/ directory (on Linux) or Application Data\VMware\VMware WSX\SSL directory (on Windows).
Why isn't this the default, you may wonder? Of course we'd love to just generate self-signed certs by default and encrypt everything, but it turns out there are some browser compatibility issues with self-signed certs and WebSockets, which we use for all our communication. iOS, in particular, is currently broken in that regard.
There are many places on the web where you can get free or cheap certificates that should work fine for you. We highly recommend installing an SSL certificate to enable HTTPS for WSX. Another option is to require access to WSX through a secure VPN.
Easier Installation
Some Windows and Linux users hit problems with our installation in the previous release.
A few Windows users had a crash at startup. This was due to a naming conflict causing an early failure, which we've fixed.
Linux was a bit more of a complicated story. We required a specific version of Python on the system, and while not an uncommon version, it proved to be too hard to get going on many systems. This is no longer a requirement! You don't even need Python installed. We run completely independently now.
So give it another try!
Smarter Defaults
New installs would come with a "Shared VMs" server pre-configured. The intent was to make it easy to get to your Workstation Shared VMs. Some people, though, had changed the port for their Shared VMs, which confused WSX and caused some problems. We've improved the smarts to only add this server if it's installed on the same system as Workstation, and to grab the port from that configuration.
Performance Tweaks
Connecting to the VM should be a bit faster now.
Resizing the browser window no longer causes the VM to take forever to update its resolution. We were spamming it with resolution change requests.
Bug Fixes
Fixed a crash when accessing some Linux VMs that had Tools but didn't support switching resolutions.
Fixed the styling of some parts of the UI on some browsers. The Log In page, in particular, looked pretty broken on the iPad.
Known Problems
Connecting to vSphere will still only show VMs in the root VM folder, and not in subdirectories or datacenters. Work is still needed here.
Feedback
As always, please let us know if you hit any problems or have any questions!